Christmas cards with a feminist twist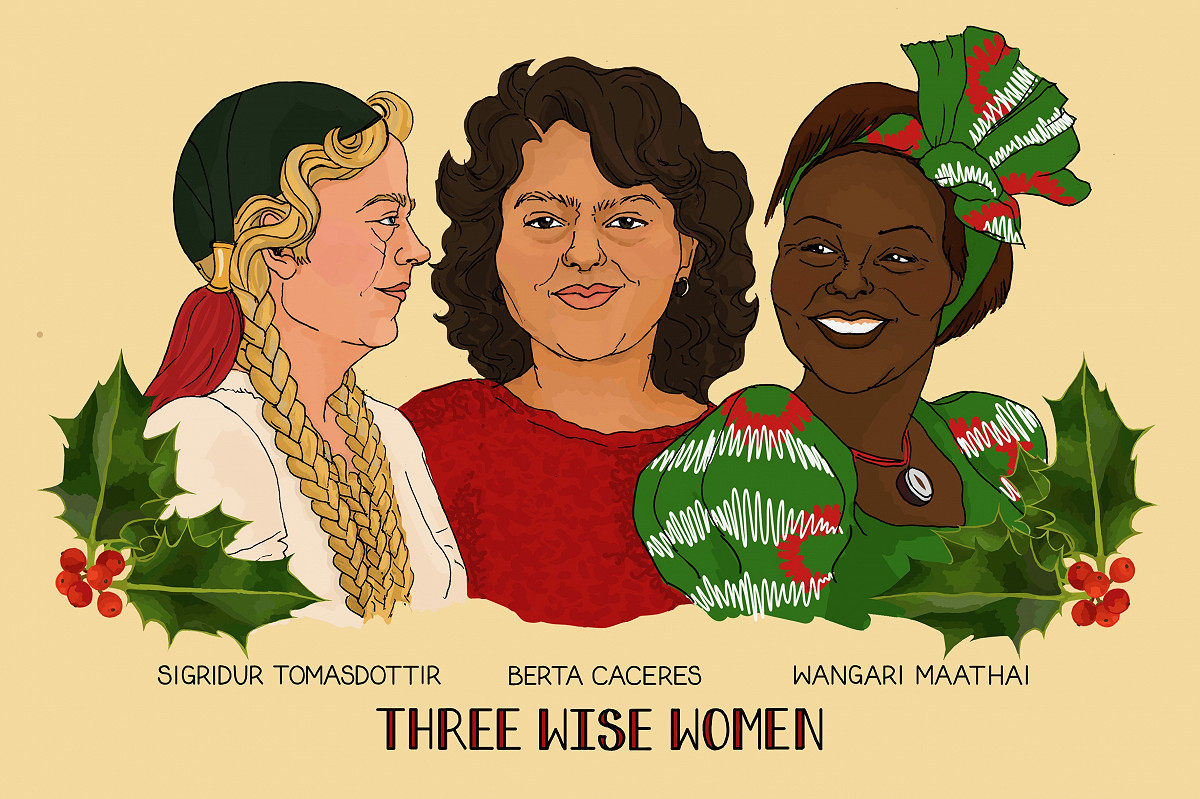 We've all been fans of Greenbelt Festival for many years, and were delighted when they said they would stock our cards in their shop back in August. And when they told us that the Sunday service was going to have a Christmas theme, we accepted the challenge of coming up with some Christmas designs with a feminist twist.
Our first card continues our historical women range and features Three Wise Women who were pioneers in conservation, wise beyond their time. Wangari Maathai was a Kenyan activist for women's rights and the environment, and the first African woman to win the Nobel Peace Prize. Berta Caceres was an environmentalist and social activist for indigenous rights. She led a grassroots campaign that stopped a dam being built in Honduras. Sigridur Tomasdottir lobbied to stop Gullfoss waterfall in Iceland being damned for hydroelectric power; it is now in a national park. In this time of climate crisis, we think these women are worth celebrating, and in a season of overindulgence it doesn't hurt to remind people to tread lightly on this earth.
Madonna and Child is our first collaboration with an external artist - Malak Mattar. Malak first started painting at the age of 13 during the military assault on the Gaza Strip by the Israeli army in 2014. Forced to stay at home for her own safety, she felt compelled to release her fear and anxiety through her art. Currently studying in Istanbul, her paintings have been featured in over 40 exhibitions all over the world.
Love Came Down features a line from one of our favourite carols by Christina Rossetti, and joins our poets range. There is a verse from the carol on the back of the card.
And finally, St Nicola is the patron saint of hard-working women who do the nightshift. She travels round the world delivering presents with her team of speedy reindeers, in solidarity with all the women who work through the night for themselves and their families.
All these cards are 15cmx10cm and come in packs of six for £8, wrapped in our usual compostable film. Buy two or more packs and post and packing will be free. We're donating 10% of the income from these cards to projects supporting women in Palestine through Amos Trust. We think people send fewer Christmas cards now than in the past, so you might as well send unique, beautiful, thoughtful cards like ours!